ABOUT US
Founded and managed by Alex and Alison Brown, Valley Landscaping & Excavating Ltd. was established in 2005. Alex brings over 25 years of experience and expertise allowing Valley Landscaping & Excavating to perform top quality jobs. Our company originated and still exists in Douglas, Ontario. We provide services to all areas in the Ottawa Valley. We offer a variety of services for all types of clients and we promise to treat you and your property with respect.
We have won the Renfrew Chamber of Commerce Outstanding Business Award and several years of the Readers Choice awards for best in business over different catagories.

When it comes to getting bids for a project, not all bids are created equal. Often when there is a big difference in price there is also a difference in quality. Believe it or not, not all contractors are concerned about quality. Some contractors will say one thing and then cut every corner possible to get the job done, or worse not even finish the job. At Valley Landscaping & Excavating we are focused on building a reputation of quality and customer satisfaction and we are more than happy to work within a budget. We can modify the types of materials used or suggest more cost efficient options to bring down cost without sacrificing the quality of workmanship in order to stay within your budget. We want to earn your business and will address any other quotations you receive.

Valley Landscaping & Excavating is committed to providing a high quality job and to be there after the job is completed to make sure you are satisfied.

---
Why Choose Valley Landscaping & Excavating?
No Shortcuts - we use quality materials and time-tested installation techniques on every job to ensure your project comes out just right the first time!

We Return Phone Calls Promptly - we understand that regular communication with our clients is an important part of any building project.

Professional & Courteous - our staff arrives at your home or business professionally dressed, ready to answer questions and provide the courteous service you deserve.

Fully Insured and Properly Financed - we're in business for the long haul
OUR EQUIPMENT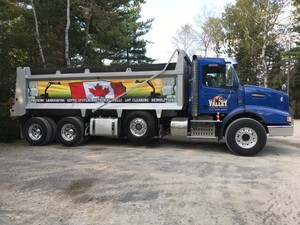 We have a fleet of well maintained heavy equipment.
Tri axle dump trucks, Float truck, Live bottom and dump trailers, Rock truck, Skid steers-track and tire, Mini excavators, Excavators, Loaders.....
...Learn more