LANDSCAPING SERVICES
ARMOUR STONE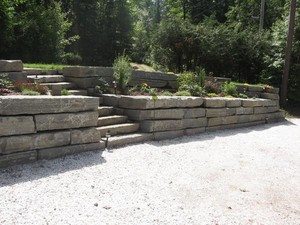 Armour stone is great for a variety of retaining wall projects from single tier garden perimeters to large scale retaining walls and shoreline retention. Our armour stone walls are done with filter cloth, drain tile and clear stone.
DUMP TRUCK SERVICES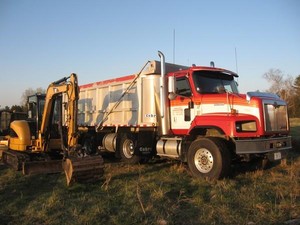 We deliver and supply topsoil, gravel, river stone, armour stone, fill and all other materials and aggregates.
LOT CLEARING AND TREE AND STUMP REMOVAL
We will clean-up your lot or property by removing unwanted growth, scrub brush and trees, trash including tires and other unwanted items. By removing the unwanted trees and underbrush you add tremendous value to your property. Cleared lots typically sell for 5-20% more then uncleared lots. It allows prospective buyers to walk the property rather than crawling thru brush and debris and enables them to envision the location of their new home.
RETAINING WALLS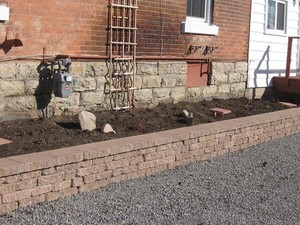 A Retaining wall is a structure to hold back earth and soil in decorative landscaping or structural applications. When we install these walls we insure that they are level by using our professional laser lever. We also backfill with proper material for drainage.
SEEDING AND SOD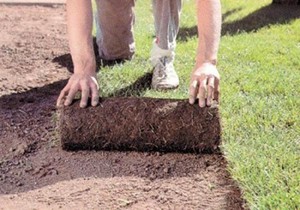 There is a common misconception that seeding is the best way to establish a lawn because it is much less expensive than sodding. In realty, sodding turns out to be less expensive over time once costs such as increased maintenance inputs and repair are accounted for.
INTERLOCK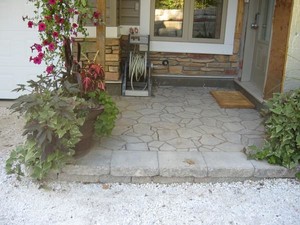 Interlocking brick is a great choice and can be used for any number of landscaping projects: driveways, retaining walls, walkways and patios. It is a very versatile choice with many different colours. The one main advantage of interlock is the ability to re-level it. With our harsh environment many surfaces will crack and sink, especially concrete and asphalt. It can become very expensive to fix this problem. With interlock you only have to remove the stones, re-level the base and lay the stones back in place.